Periodontics with a Caring Touch
James R Werkmeister, D.M.D., M.S.


1000 Brooktree Road, Suite 304




Wexford

,

PA

15090


Get Directions

(724) 933-0070

www.caringperio.com


Dr. James R. Werkmeister
Treating Gum Disease, Gingivitis, and Periodontitis Since 1995.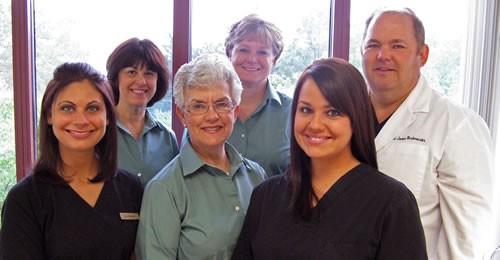 Our practices are committed to providing quality, evidence –based periodontal care with a personal and caring touch. Both Dr. Werkmeister and Dr. Zavoral will take the time to address your individual needs and make sure that you are comfortable and relaxed. As specialty dentists, Dr. Werkmeister and Dr. Zavoral always have your best interests at heart and will ensure that your periodontal problem is evaluated and properly treated. Their scope of dental care includes treating all areas in the field of periodontics, including osseous surgery, soft tissue grafts, crown elongations, guided bone and tissue regeneration, and implant dentistry.

Chances are, your regular dentist has recommended that you see a periodontist because you have a serious problem with your teeth or gums. Over the years, Dr. Werkmeister and his staff have helped thousands of Pittsburgh-area patients. Periodontal disease is responsible for over 75% of all adult tooth loss in the United States. If you have been referred to our office because of a periodontal problem, it is likely that your periodontal infection should receive prompt attention. Additionaly, we specialize in dental implants. Dental implants are the most natural form of tooth replacement. If you are considering a dental implant you are in good hands.


Meet Dr. Werkmeister
Dr. James R. Werkmeister received his dental degree from the University of Pittsburgh, School of Dental Medicine. Following dental school, he pursued a post-doctoral education in Periodontics from The Ohio State University, College of Dentistry. While at OSU, Dr. Werkmeister received a research grant from the National Institute of Health. He used this grant to study connective tissue cell biology as it relates to the development of periodontal disease.


Meet Dr. Zavoral
Dr. Jennifer M. Zavoral is a board certified periodontist who has been working in the field since 2011. She received her B.S. in Biology from Youngstown State University in 2004, then earned her D.M.D. degree in 2008 and her Certificate in Periodontology in 2011 from the University of Pittsburgh School Of Dental Medicine. Additionally, she received her M.P.H. from the University of Pittsburgh School of Public Health in 2009. She is a Diplomate of the American Board of Periodontics.
Contact Us
Larger Map & Directions


www.caringperio.com
Additional Locations
Periodontics with a Caring Touch
James R Werkmeister, D.M.D., M.S.
4328 Northern Pike, Suite 102
Monroeville, PA 15146
(412) 856-8200
View Profile