Twin Cities Periodontics
Anthony J Skinner, D.D.S.
Nicholas P Lowe, D.D.S.
Shahir Malek, B.D.S., M.S.D.


3555 Louisiana Avenue South




Saint Louis Park

,

MN

55426


Get Directions

(952) 935-9009

www.twincitiesperio.com


ANTHONY J. SKINNER, D.D.S

NICHOLAS LOWE, D.D.S

Shair Malek, B.D.S, M.S.D.
Welcome to Twin Cities Periodontics

Our goal is to provide you with the highest quality of periodontal and dental implant care in a comfortable, safe and caring manner. We are concerned about you and utilize the latest techniques and medications to ensure your comfort.
Attending to your concerns and questions is our number one priority. On your first visit to our office, we will give you a complete examination and then explain everything. We recommend only the most proven techniques. If there are several options for care, the benefits of each will be discussed.
Drs. Gaspard, Skinner and Lowe attend many hours of continuing education to provide you with the highest standard periodontal and dental implant therapy. They work hard to ensure you will receive the best result. You can depend on us.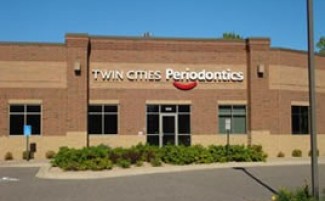 Periodontal disease is responsible for over 75% of all adult tooth loss in the United States. If you have been referred to our office because of a periodontal problem, it is likely that your periodontal infection should receive prompt attention. Please call us at your earliest convenience.
Dental implants are the most natural form of tooth replacement. If you are considering a dental implant you are in good hands. We have been placing dental implants for more than 20 years and are among the top users of dental implants in the Twin Cities area.
Contact Us
Larger Map & Directions


www.twincitiesperio.com
Office Hours
Monday
12:00 AM - 12:00 AM
Tuesday
12:00 AM - 12:00 AM
Wednesday
12:00 AM - 12:00 AM
Thursday
12:00 AM - 12:00 AM
Friday
12:00 AM - 12:00 AM
Saturday
12:00 AM - 12:00 AM
Sunday
12:00 AM - 12:00 AM