Long Island Periodontal Professionals
Alan H Farber, D.D.S.
Chris Chondrogiannis, D.D.S.


1641 Route 112




Medford

,

NY

11763


Get Directions

(631) 758-3700

www.LongIslandPerio.com


Alan H. Farber, D.D.S.

Chris Chondrogiannis, D.D.S.

Vasiliki Batalias, D.D.S.
We deliver optimum health through excellence, technology, and real understanding.
We believe in the things that are most important to you in Periodontics.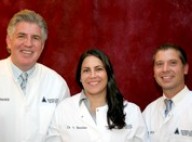 Brilliant results
Not all Periodontists are the same. Dr Farber and his associates are committed to providing the best results anywhere. They do this because they believe that periodontics done right, by a periodontist with the right training and knowledge, not only makes your mouth healthier, but your whole self as well. We believe in a connection between oral health and your general health and approach our treatments with your whole health in mind. Highly experienced, Dr. Farber has been practicing for over 25 years and excels in high-end technical work. He is passionate about continuing education, allowing him to expand his expertise in oral health. Dr. Farber facilitates Continuing Education as
The Director of the Long Island Dental Forum
Assistant Clinical Professor in Periodontics, SUNY StonyBrook School of Dental Medicine
ITI Study Club of Long Island
In-Office Periodontal Team training
Assisting General Dentists with Chartless Education Programs
Assisting General Dentists with Marketing and Social Media
Implant Hands-On Courses
Technology
We are diligent in our efforts to provide the latest in dental technology. This means a better diagnosis, faster treatments with less pain, and a better recovery for you. We utilize a chartless system and are fully digitized to service patients quickly and reduce our impact on the environment. Our state-of-the-art dental implant placement process is unmatched in results and experience. If it's on the leading edge of periodontal technology, you'll most likely find it in our office.
Understanding
You will feel listened to and you will feel empowered. Real understanding is a two part process. It starts with careful listening and ends with meaningful education. We listen to you, take time to carefully answer questions and provide a thorough exam. We also want to ensure you're educated about your state of health and treatment options. We believe that through meaningful education of your specific needs you can make confident and informed decisions about your health.
Contact Us
Larger Map & Directions


www.LongIslandPerio.com
Office Hours
Monday
8:00 AM - 5:00 PM
Tuesday
Closed
Wednesday
8:00 AM - 5:00 PM
Thursday
9:00 AM - 6:00 PM
Friday
3:30 PM - 8:00 PM
Saturday
8:00 AM - 2:00 PM
Sunday
Closed
Additional Locations
Farber Implant Center / Long Island Periodontal Professionals
Alan H Farber, D.D.S.
523 Townline Road, Ste. 11
Hauppauge, NY 11788
(631) 265-4442
View Profile